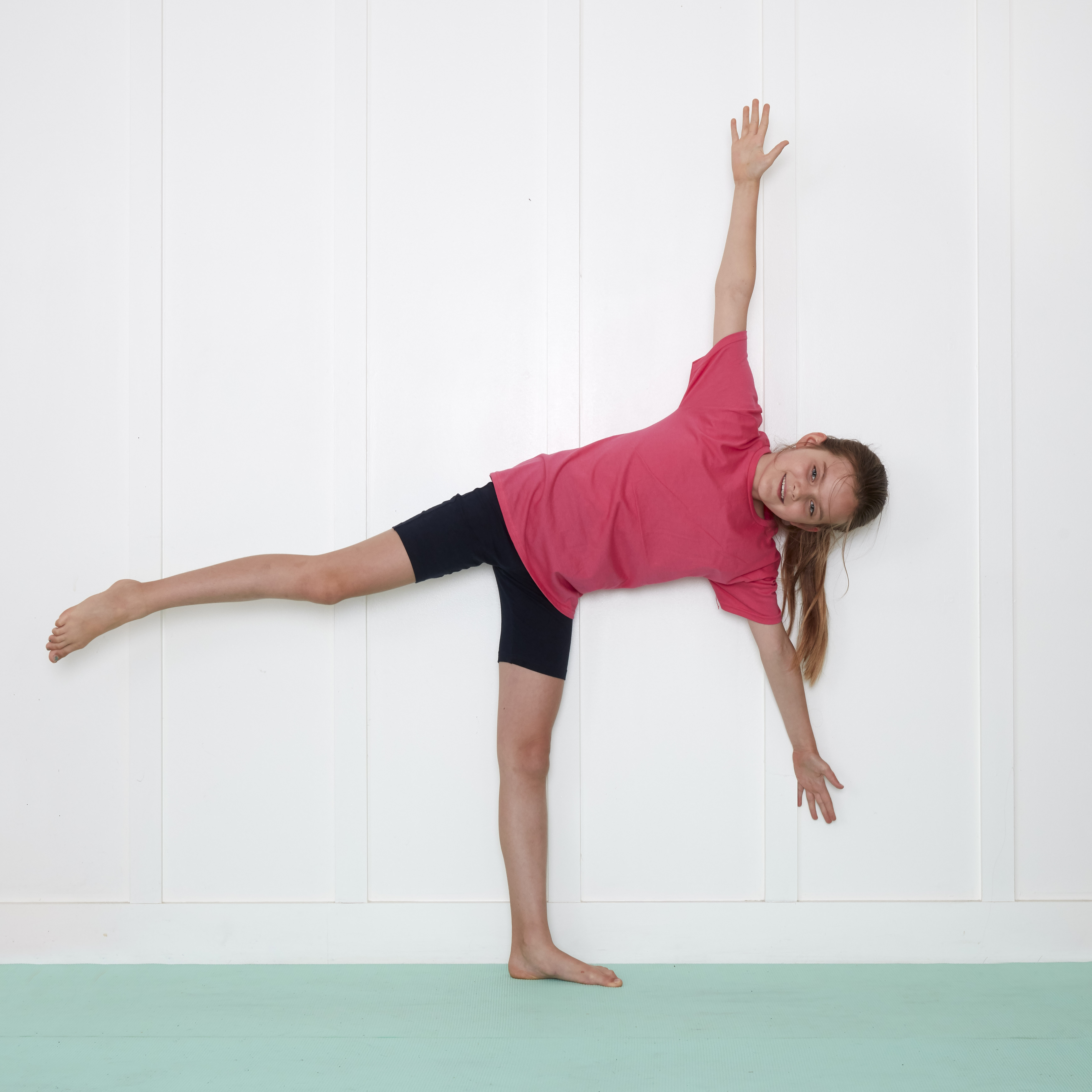 Learn how to share your love of yoga with children & teens
This course is fully accredited by the British Wheel of Yoga and on completion of the module, students will receive a BWY certificate. The module will be run in 3 sections.
Teaching ages 2 1/2 to 7
Teaching ages 8 - 12
Teaching ages 12-18 (the main focus being on the 12 to 16 age range).
The course is suitable for qualified yoga teachers and trainees (minimum of 200 hour YTT) who want to bring the benefits of yoga to children and teens.
About the Course


The course is designed to develop both your personal and professional practice. On completion, you will have the skills, tools and confidence to teach yoga to children and teens in a safe fun and engaging way.


You will have an understanding of the developmental milestones of each age group and a toolkit to adapt your teaching for different settings.


The full course will be held online combining the connection of live Zoom classes and peer meet-ups, with the convenience of self-paced learning. There is over 20 hours of pre-recorded material, including classes being taught to children by experienced teachers.


The live sessions are held via Zoom on 4 Saturday mornings. Dates for these are September 9th, 30th, October 21st, November 11th. From 9.30 - 1.30 UK time. Students need to attend a minimum of three of the live sessions.


All live sessions will be recorded and available to watch later.
There are two payment options. A single payment of £760 and 3 x monthly payments of £260. This includes the £ 60 BWY course registration fee. An early bird payment is available on all bookings before May 31st.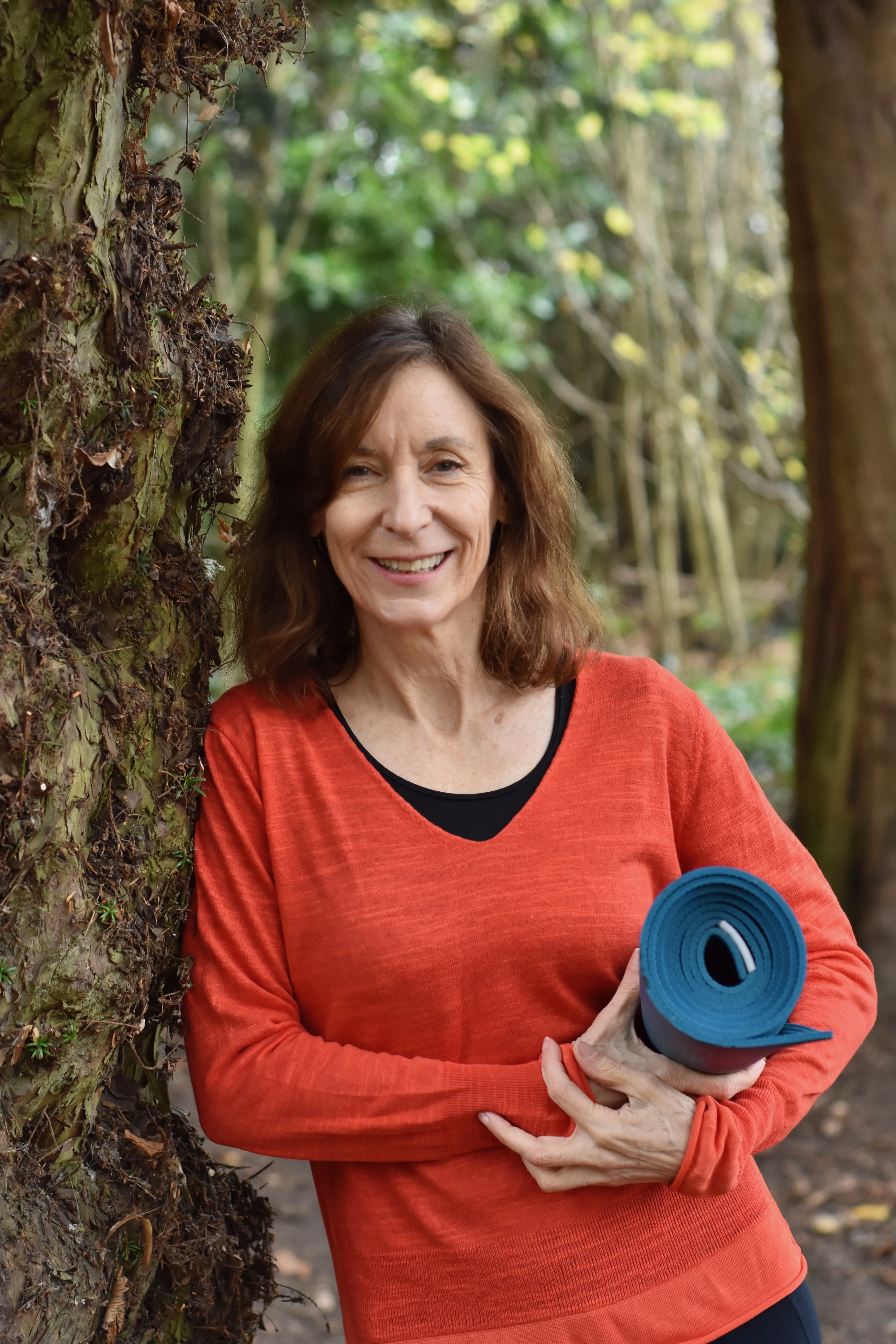 Christiane has been practising yoga since 1995 and qualified as a yoga teacher in 2003. Her original training was with Sivananda Yoga and she went on to complete a two year, 550 hour training with the BWY accredited, London Yoga Teacher Training Group.
Like most yogis she has continued to study over the years completing courses in restorative yoga and yoga nidra.
In 2014 she qualified as a Mindfulness Teacher (MBSR/MBCT) with the Centre for Research and Mindfulness Practice at Bangor University. She follows the good practice guidelines set out by the Mindfulness Network.
She has been running courses at the Mindfulness Project in Central London since 2015 in both general Mindfulness Based Stress Reduction as well as courses and workshops for parents.
Whilst she loves teaching to all ages, she is passionate about introducing yoga and mindfulness to children and teens as early as possible, giving them a valuable skill that can help them navigate through life's inevitable ups and downs. She also loves the playfulness and creativity of teaching the young.
Course Information


Each of the first three live sessions will focus on teaching to a different age group with key skills being reinforced over the duration of the course. The fourth live session will be a practical session where you will have the opportunity to teach to your peers.


Learning will include:
-How to set up and run kids' yoga classes including the practical requirements.
-Anatomy and Physiology for each age group.
-Social, Emotional & Cognitive Development.
-Simple Neuroscience.
-Adapting asanas for safe teaching
-Pair and group work.
-Language, teaching cues and scripting your lessons.
-Breath awareness and simple pranayama.
-Meditation, mindfulness and relaxation.
-Class planning and structure.
-Creative ways to engage with each age group.
-Recognising and dealing with stress.
-Bringing yoga off the mat and into everyday life.


Course Structure


After each of the Saturday Live Zoom sessions, the section related to the module covered will be released on the Teachable Learning Platform. Teachable is easy to access and use and we can help if you have any technical issues.



The total time commitment for this course is around 52 hours.
This consists of:
-16 live Zoom hours
-20 hours on Teachable
-10 to 12 hours on homework, reading and safeguarding.


Course Requirements
This course is open to all certified yoga teachers and trainee yoga teachers.
In order to teach yoga to children and teens you need to have a valid certificate from the Disclosure and Barring Service. How to apply for this will be covered on the course.
You will also need to complete a safeguarding course. Some local authorities offer these for free and there are e-courses which we recommend that cost cost around £30. 
You also need to extend your insurance to cover teaching yoga to children and teens.
"Highly Recommend"
I would highly recommend this course as it covers everything you need to teach yoga to children and more.
The resources are excellent. The handbooks and printed information are so comprehensive and the videos of children's classes on Teachable compliment all the material and teaching from the live sessions.
The combination of the livestream and pre-recorded sessions works really well.


Mel Hornby, BWY Yoga Teacher
Course Resources


There is a comprehensive booklet for each section as well as a teacher's pack with the logistics of teaching and a poses booklet including photographs and suggested scripts.
The booklets are packed full of activities for you to use in your classes. These include lesson plans, age appropriate yoga games, quiet activities, breathing and relaxation techniques.
There are 3 hours of audio downloads with tracks that you can use for relaxation in your classes.
The course also includes simple ways that you can introduce yoga philosophy to children and teens.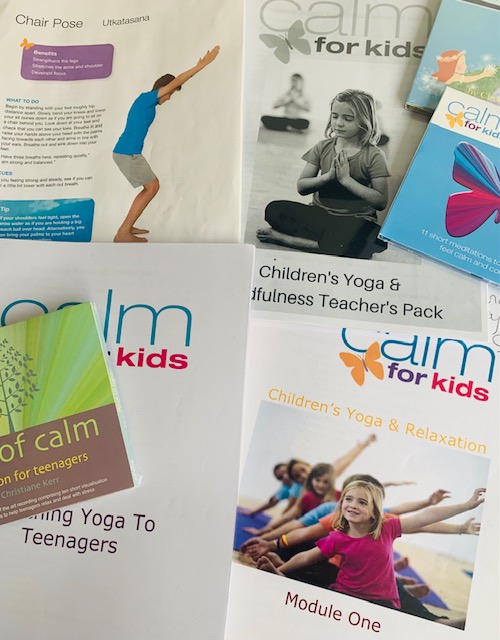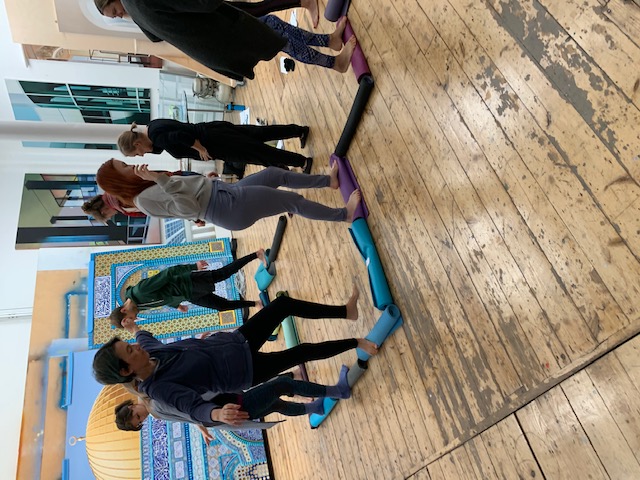 "Brainstorming Ideas & Games."
The module was set out really well and though there was a lot of information in each section, it never felt overwhelming. Christiane has a real depth of knowledge and experience and everyone is listened to.
Cassie Williams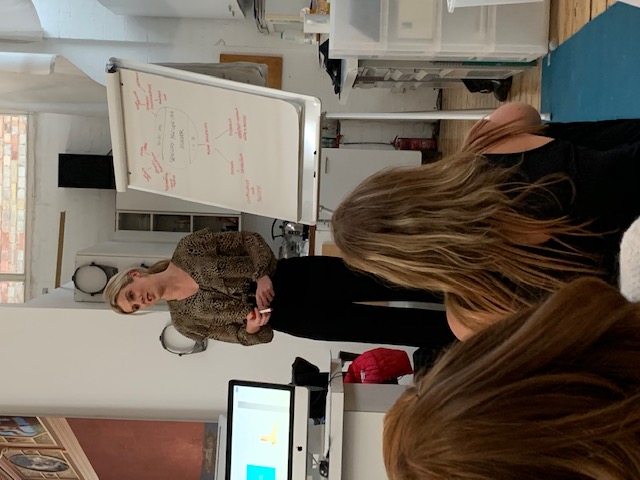 "Great Anatomy Section for Teens."
I found the developmental stages for each age group really interesting and it also gave me more confidence in choosing asanas and activities to use. I don't have much experience of working with children so found the class management session really helpful too. Kelly F.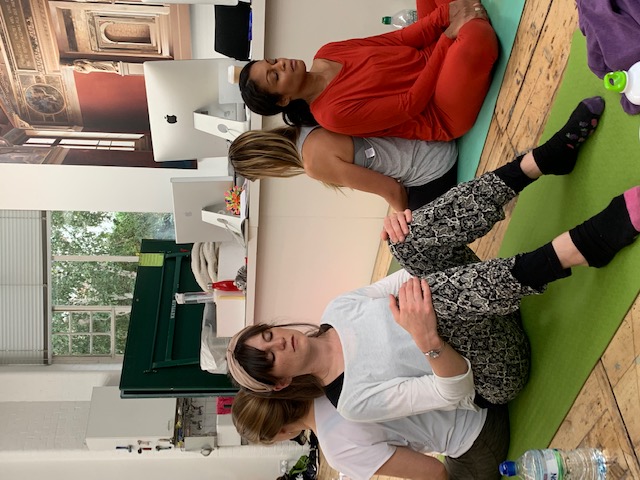 I have attended various specialist yoga courses and I think this truly is the most practical, empowering and comprehensive. There was so much content covered in an easy to digest style.
Kaori Kashiwagi